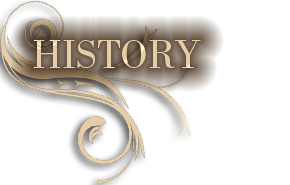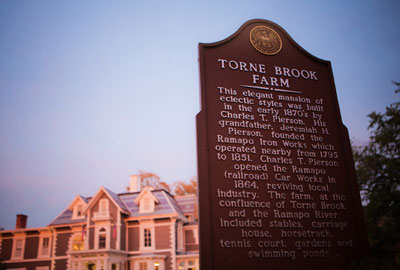 Built in 1875 by industrialist Charles Pierson, Torne Brook Estate seemed destined to distinguish itself right from the very beginning. Pierson, who had helped to put a fledgling Rockland County on the map with the success of two foundries along the Ramapo River, was in a position to choose one of the choicest parcels of land available, when it came time to build his homestead. The location was to be a fifteen acre swath of land in the shadow of the Hudson Valley's majestic Torne Mountain and bordered on either side by the Torne Brook and Ramapo River. The estate ultimately consisted of a mansion, built in the Victorian Gothic style, and several out buildings, including a barn, ice and carriage house.

The new century brought many changes to Torne Brook. Charles and his wife had passed on, leaving the estate in the hands of their niece Julia and her husband Herbert Mapes. A servants' cottage was added, as well as a horse track, tennis court, spectator pavilion, orchard and formal garden. Nearly a dozen workers lived on the property during this, it's golden era and upon it's completion, the estate was the largest and most opulent of its kind in the Town of Ramapo.

The property was ultimately sold by the Mapes family around 1918 and has been reinvented many times in the intervening years. A large wing and music room were added in the early 20s, by then owner, and Steam ship magnate Alfred Clegg. However Glegg would be the last to use the expansive property and buildings as a singe family homestead. Since his tenure, Torne Brook Farm (as it had come to be known) would chart a diverse and often uncertain course, being briefly used as a Girl Scout Camp, then a Religious retreat; and ultimately having its interiors divided into apartment rental units in the mid 1950s.

Despite being listed on the National Register of Historic Places in 1988, Torne Brook Farm had, for many years, been slowly falling into a state is disrepair. By the turn of 21st century, Rockland County's once grand embodiment of the industrial revolution, no longer befitted its proud pedigree.

In 2000, brothers Jon and Stephen France saw potential in the ailing gem and purchased the estate. They began a slow and painstaking restoration of the mansion and out buildings as well as re-imagined the landscape of the surrounding fifteen acres. Once the property had regained its footing, they turned their attention to the next chapter of Torne Brook's life. Inspired by the fertile grounds and a life-long passion for fine wine, the brothers set out to launch the first vineyard ever established in Rockland County. In 2011 the gates of the estate were opened to the public for the first time and Torne Valley Vineyard, like Charles Pierson nearly a century and a half before, aspired to take its place as a symbol of elegance and industry in the region.